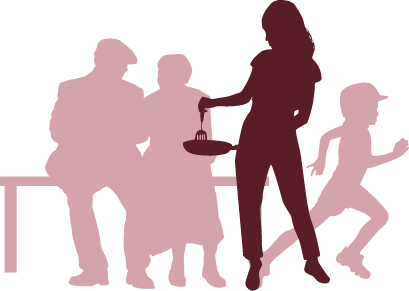 C.W. & R. H
We started working with Lottsa in 1993, over 25 years ago.  They have handled all of our personal, business, and multiple LLC's  accounting and tax filing needs.  Scott and his team have proven to be consistently professional, knowledgeable, ethical and honest, In addition, they have been extremely easy to work with: understanding of our business and personal needs, partnering with us to successfully achieve our goals.
As our business has grown over the years, Lottsa has continued to guide and support our  changing needs. We would highly recommend their services no matter the size or scope of work required.
E. M.
I am happy to know that you always have my back. You are accessible, prompt to offer assistance, knowledgeable and always helpful. As a business owner and as an individual customer I could not be more happy with the service you provide.
K.O.
When I first walked into Lottsa to get help with my self-employment taxes, Scott advised that I think carefully about my values, so that I could align my financial life with them. Over 25 years and two businesses later, I still regularly consider that advice. This is such a rare and wonderful company; the team balances rigorous, exacting competence with warmth and compassion.
J.O.
I have worked with Lottsa since 1992 and have always found Scott and the entire staff extremely friendly and prompt, honest and professional.
T.A. and S.W.
We owned a small business, and Lottsa met our monthly accounting needs and gave us advice. Yearly, they gave us big picture business financial advice.
Lottsa has been doing our taxes for many years. They do such an excellent job that as our children become independent adults, we suggest they also have Lottsa do their family taxes.
We just consider Lottsa an excellent firm and perfect for us.
T.O. and B.O.
What we especially appreciate, in addition to [Lottsa's] always consistent follow-up and organization, is their willingness to understand our comprehensive situation and provide advice that includes scenarios and options that not only cover our tax situation, but also encompasses a wide array of personal and business finance issues as well. Having one resource that can cover all this complexity is very helpful.
A.S. and D.G.
We have worked with Lottsa Tax and Accounting for almost 30 years. We started as simple yearly tax clients but when we bought our first business, we asked Lottsa to be our business accountants too. They compiled monthly reports, kept track of lots of numbers, and efficiently put together our business and personal taxes every year. They worked with us when we sold that business, making certain that everything was done properly. They helped again when we bought our second business and continue to be our business and personal accountants. They are currently helping us manage the sale of this second business.
Lottsa has our back and it is comforting to know that they are a phone call or an email away if any financial concern or question arises. They have provided generous and sound advice many, many times.
Competence, trust, and integrity are the words that describe every person we have ever dealt with at Lottsa all these years. It starts at the top, and Scott Beers is a fine accountant, a good man, and has always attracted wonderful staff. We would never use anyone else.
S.C.
Lottsa's staff has been friendly, personable, thorough, and professional when providing advice and preparing our taxes.
Early in the calendar year, their 10% early bird special helps with the fees, and prompts us to have our tax documents prepared and submitted in a timely manner. Also, in the fall, we have benefited from their free 1/2 hour of free planning services.
G.G.
Lottsa has been my financial partner for decades. They have guided me through myriad aspects of my financial life and have provided excellent guidance as my circumstances have evolved and become more complex. I can count on them for timely and accurate completion of work, and equally importantly for value-driven guidance for my financial planning and decisions.
Ann M.
Scott and his staff have done wonderful work for us, including educating me on the intricacies of state and federal tax laws as they apply to both my employment, retirement programs, and my sole proprietorship.
A.M. and B.B.
Lottsa has prepared our personal and business returns for more than a decade. We remain loyal and satisfied customers. Scott and his people work with a wonderful combination of competence, which produces informed and nuanced guidance and returns, and genuine interest in our human side, which produces a sense of being cared for, looked after. It is a much-appreciated combination of professional and personal, of head and heart.
J.N.
I have been a client of Lottsa for decades. Professional, courteous, punctual, unimpeachable integrity. All the folks at Lottsa are able to explain things to me in language that I can understand. They're a straightforward bunch, I highly recommend them.
C.S. and R.S.
Scott and the team at Lottsa are very responsive, and offer straightforward, practical advice on our taxes and other financial matters. We consider them to be a trusted partner and really get the sense that they are rooting for our long-term success. Scott even went so far as to visit us at our home to help us complete our taxes when my husband was very ill — that's service!
P.T.
As a small business owner, I needed an accounting firm that could not only provide tax and accounting services for my business, but also provide a broader view to optimize my total financial picture. Lottsa was that firm. While this strategic approach was very important to me, I am also so appreciative of Lottsa's attention to detail, quality of work, and proactive approach that ensures that I can focus my time on taking care of my clients and trust that my business financials are in good hands.
K.W. and V.W.
The Lottsa team genuinely cares about their clients. They know us personally and treat us with the highest professional regard. Over the years, we've referred friends and family to Scott, including my 85-year old mother.
K.R.
You do not hear the words 'love my accountant' spoken very often, but I have uttered these words more times than I can remember. Really! I have been with Lottsa Tax & Accounting for well over 15 years and by far, it is my most cherished and trusted business relationship. Scott and the team are responsive, respectful and provide thoughtful options that both challenge me and align with my values. I highly recommend Lottsa to anyone who will listen.
L&L
Lottsa has been doing our taxes for 16 years. For several of those years, the returns were more or less routine; however, some of the more recent ones have been quite complex and have required fairly extensive research.
In addition, we were audited twice, once just as a random check and the other the result of significant changes in our returns. Lottsa walked us through the rather anxiety-provoking process, making it much less stressful than it might otherwise have been.
Throughout all this, Lottsa has been prompt, responsive, and considerate. They have also been quite responsible, taking care to ensure that they have all the information needed to submit accurate returns. One year, when there was an error, they apologized immediately, then cheerfully corrected it (at no charge) and paid the interest and penalties.
As an additional service, the company offers a free, 30-minute consultation service each year, during which time existing clients can get advice on tax-related issues. Our consultation focused on setting up a trust for one of our grandchildren, which we found very helpful.
Their fees seem reasonable, given the high quality of their work.
Overall, we are quite pleased with Lottsa's services and wouldn't hesitate to recommend them.